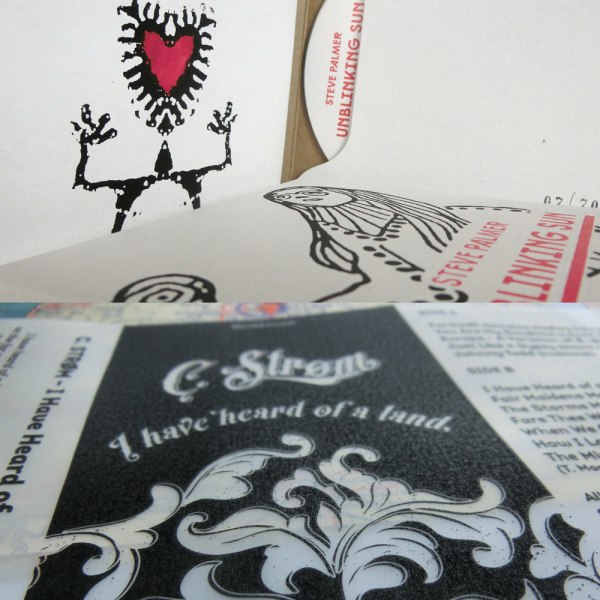 Summer Update Pt. II - New Releases by C.Strøm and Steve Palmer
I am really pleased to announce two new releases on Dying For Bad Music, out by the end of Summer 2014.
Norwegian multiinstrumentalist C.Strøm contributed some fine lo-fi renditions of traditionals and american folk songs for dfbm-021.. Outsider and loner folk at its best, I tell you that.
C. Strøm records all one-takes, straight to tape, so it was a no-brainer to release this on cassette tape. The topic of the album I have heard of a land is loosely based around the time, when many Europeans left their home to find their luck in the promised land of America. 
There is not much information about C.Strøm out there. Basically there is a Phoning In Session from 2008 and Jeffrey Davison plays him sometimes at his WFMU show Shrunken Planet, but else it's hard to find anything else.
The cassette comes with some neat multi layered artwork for further explorations.
The second release is by Steve Palmer, titled Unblinking Sun. Also hailing from the Northern Hemisphere, he's already living in the land of the free, up in Minneapolis, Minnesota to be accurate.
Palmer is a Fahey nut and guitar obsessive, taking lessons from guitar legend Peter Lang. He also recently opened for Chris Forsyth and the Solar Motel Band just a few weeks ago. Unblinking Sun will be his debut full-length. His prior releases include Garfield Avenue Sessions, a compilation of home recordings issued on on the small tape label Ambivalent Soap, along with Fables of the Feral Boys, an online-only EP.
For Unblinking Sun, Palmer didn't follow the winded syncopated acoustic guitar path that Fahey is best known for. Here, Palmer explores the experimental side of American Primitivism and even takes the Autobahn to Düsseldorf to get some canned Kraut goods1).
This album is less a solo guitar excursion and more a psychedelic trip. The same kind of trip artists like William Tyler and Cian Nugent have taken lately.
The packaging is all handmade, screen printed on Stumptown cardboard folders and limited. 
I am already extremely proud how this all turned out and to work with such an amazing artist like Steve.
More will be revealed over the next weeks. So stay tuned!
1) to be more specific, I am talking more about NEU!'s Für Immer (Forever) rather than Kraftwerk's robots, even if there was a time when it was one and the same thing.
PS: if you wonder what happened to dfbm-20, I don't know yet. It's maybe some of my own stuff or Vévé Seashore outtakes. Or it stays mysteriously unreleased and collectors in 30 years will wonder what might have happen back then...