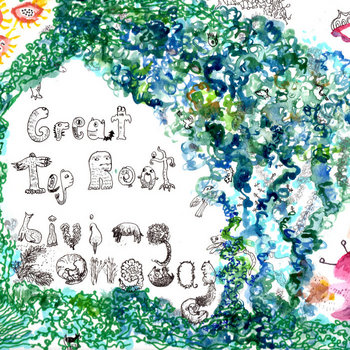 Recorded winter 2010-2011 at The Annex in Baltimore, MD.

Tracks 9, 11, 12 and 14 are poems written by Paul Celan (1920-1970), translated from the German by Michael Hamburger. All other tracks are poems written by William Blake (1757-1827).

All sounds made by Ben Lorber except-
vocals throughout by Holly Kent Payne
Bass on track 5 by Danny Kamps
'The Babe, The Babe is Born!' on track 1 by Nese Senol
Hulusi on track 15 by Frog E. Wang
Whistling on track 16 by Danny Kamps
********
incandescent ritualistic folk glee
sunny splashes of electronic light
hushed acoustic tremors of murmuring darkness
soft gentle strands of grassy lullaby
loud cathartic yelps of animal madness

keyboards warble in and out of the ears
grand pianos twinkle and disappear
acoustic and electric guitars strum and pick
flutes twitter and laugh
synths sparkle and shine
kitties yell
harps shimmer
accordions bellow
violins wail
hands clap
drums pound
bells ring

snatches of Eastern European freak folk
snippets of synth-pop joy
pulses of wide-eyed psychedelic rock
a garden of earthly delights

********
  powered by bandcamp
Great Tap Root
Living Language
Genre: Psychy Freak Folk One Man OrchestraLabel: self
Really wild and enjoyable freak folk from Baltimore. It's basically a one man show with some help from some friends. It's pretty bizarre, because it sounds like a bunch of hippies making all these noises, but it's not as it seems.
Anyway - it's a nice colorful mixture which reminds me pretty much on wilder
Le Loup
. Maybe some quirky Danielson Family or Akron/Family, too.
snatches of Eastern European freak folk
snippets of synth-pop joy
pulses of wide-eyed psychedelic rock
a garden of earthly delights
download
via pay what you want at bandcamp
10/10
(via
Skogsgospel
)