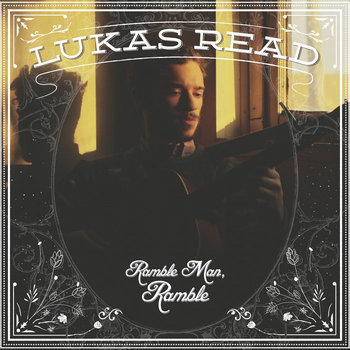 All songs written, recorded and produced by Lukas Read
All songs mixed by Lukas Truckenbrod except "My Red Dog" and "Drunk and Hardly There" mixed by Quinn Truckenbrod
All songs mastered by Jay Vega at JBird Studios
Album cover photo credit: Bryan Heller
Recorded in Pittsburgh, PA at Howley Street Studios and in Austin, TX at Town Lake Studios
  powered by bandcamp
Lukas Read – Ramble Man, Ramble

Here are some saturday morning country tunes. How did I end up listening to country music? I have no idea! But it's not the country music that comes out the Rural King loudspeakers or howsoever.
Lukas Read was already on one of the last DFBM Mixtapes (#57) with some nice solo steel string guitar tunes. When I came back to his bandcamp account I was surprised to see the full album, so I gave it a spin and I was much more surprised.
This is some really high quality music. I am not so well versed in country music and it's hard to differentiate between the different shades of this genre, which is such a huge thing in the US. It's maybe comparable to the German "Schlagermusik", with the difference that they can make it sound cosmic. (Kosmische Schlagermusik? No!)
Anyway, Lukas Read recorded a country album all by himself. That's really impressive. It's not only the arrangements and the good production quality, it's all the details like the birds in Blue Skies or the worn out tape sound in the beginning of To His Bedside and the partial echo on his voice and also the mood change at the end of the song.
Poor Boy's Medley reminds me a bit on William Tyler's guitar playing.
It's a very rich and enjoyable album that circulates between the plain, settled back solo guitar pieces and so called cosmic country music. There is something that reminds me on the lesser known James Irwin, but also Lee Hazlewood or Daniel Romano (but the latter one is a pinch too deep into cheesy country music).
Enjoy!
@Lukas do you also wear a fancy Nudie Suit?
www.facebook.com/lukasreadmusic