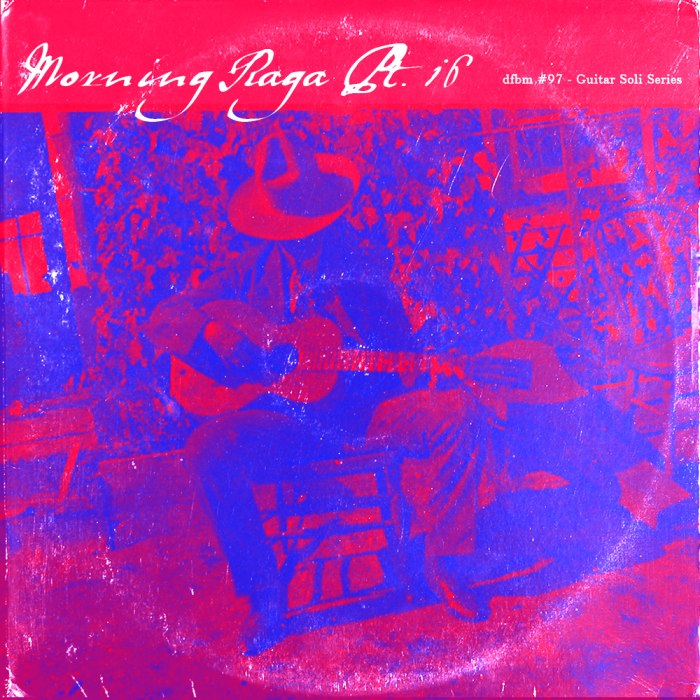 dfbm #97
Morning Raga Pt. 16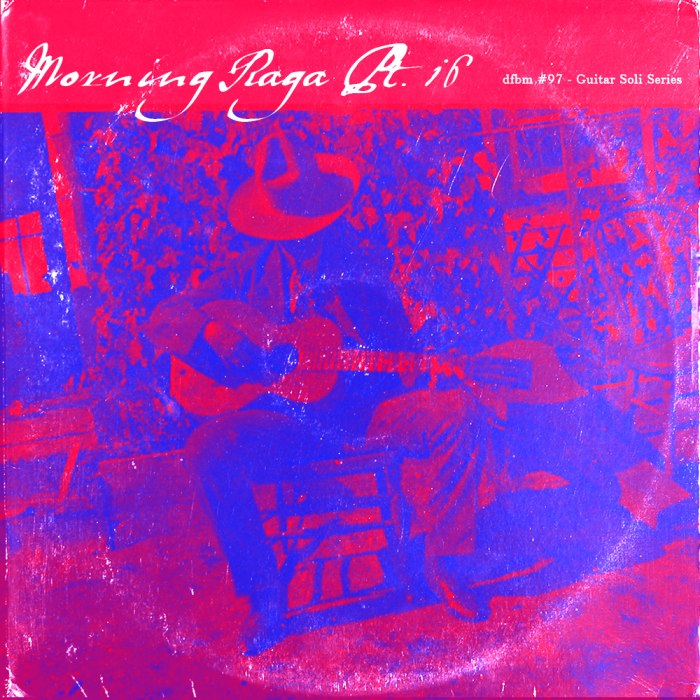 All strings considered. A new mix with most recent and almost forgotten solo acoustic and electric guitar work.
Tim Pilcher & Monica Lord released their debut on the label Dismal Niche a label from Missouri who also released a new Scott Tuma album, recently. Delicate fingerpicking and deep resonant cello tones making a good mix and I heard that combination quite often lately.
Next comes a piece by Ryley Walker, from a single that came out a bit before he really got attention. I would say, it's the missing link between his phase of trying Takoma School solo guitar and the more British Renbourn/Jansch style he got known for.
From the mid 70s there's another forgotten record by a guy called Marc Emory. He released two albums to be accurate. Both with 12-string fingerstyle instrumentals and some Eastern European influences and some nice singer-songwriter pieces and folk songs. The only real information I found was him responding in German on a post in a guitar forum. So he is American, around 66 years, and he played in the Universtity of Pennsylvania Balalaika Orchestra - the only one of its kind. That's where he got his Eastern Europe influences from. Emory is a collector of coins1 and a language nut2. His wife is German and so he lives in Düsseldorf and in different places in the States. He toured Europe a lot and his 1977 album "Where All Roads Lead" was released on the German Autogram Label. So that's for his Germany connection.
Both records are quite enjoyable and copies are not too expensive. Check him out, there is a bit more on youtube.3
Arvid Smith is from Florida and in 1976 he released a solo guitar album called "Contemporary Fingerstyle Guitar"4. It was more an educational release I believe. He also contributed to the one and only John Fahey tribute compilation that got released in Fahey's lifetime5. Smith found out about the final product a few years later, when a German fan wrote him and told him how much he liked the tracks. And I would say, they are the best Fahey cover versions on that compilation.
Smith still lives in Florida, burns incense stick and plays sitar as well as almost every other piece of wood that has strings stretched over it. The album The Journal Of Sir Tarry Boy where I took off Cirrus, is his latest solo effort and is a masterful melange of sitar, chamber music and his Fahey roots.
George Cromarty's music never got reissued, I wonder why. Grassroots Guitar is probably his best known album from 1973. He appeared on the Numero Group compilation Wayfaring Strangers Guitar Soli and even in the Coen brothers movie Inside Llewyn Davis. If you look him up, you'll find quite a lot of stories that people who knew him, left in the comment section of blogs.
And while I'm at it: Tompkins Square will reissue the album Jackdaw by Larry Conklin & Jochen Blum that came to most peoples attention as part of the Imaginational Anthem Vol. 8 - The Private Press compilation. And again a transatlantic connection. Conklin plays guitar and the German Jochen Blum plays violin. Don't be fooled by the guitar duet I've choosen for this mix. The album will be a bit different, but enjoyable nonetheless.
Singer-songwriter Leiv Reed from Norway released 4 eps or one lp (depending on where you look up his music, spotify or bandcamp) with Fahey and blues inspired solo acoustic guitar instrumentals. He composed those songs while caring for his father who later died of cancer6.
In June this year I got an envelope with the new cd by Nick Dellar from the UK. He was a contributor to folkradio.co.uk and a self-taught guitarist. I followed him on facebook and he was really excited to finalize his new album and release it into the world. Also, through facebook, I found out that he had a stroke and as a result he was put in a hospice where he died on July, 28th. RIP Nick.
That's it for now. I highly recommend to check out the music of each artist here on this mix. The most contemporary ones are on bandcamp and it's always a good choice to spend your money there instead on spotify! If you have recommendations or questions, let me know.
You can support DFBM by buying a t-shirt and share the mixes.

Tracklist
Tyler Ramsey

Raven Shadow

Tim Pilcher and Monica Lord

The Hermit

Ryley Walker

Joni's Tune

Kevin Henry

Colorado

Marc Emory

Long Lost Salamander

James Blackshaw

Soul Sucked Dry

Arvid Smith

Cirrus

Roy Montgomery

The Soul Quietens

Simone Romei

The Guilty Atheist

Yadayn

Adem

George Cromarty

Poppyfield

Erik Kramer

For Bruce Langhorne

M.S. Dagley

When I Lay My Burden Down

Larry Conklin & Jochen Blum

The Shepherd's Hour

Leiv Reed

Lindbøen 2

Will Csorba

Song For Daniel Anderson

Eli Winter

Woodlawn Waltz

Max Ochs

Boogie For Barry Master

Nick Dellar

Monkey Bounce

Harry Taussig

Children's Dance

East of the Valley Blues

Part III

Alexander

Vii
Don Bikoff