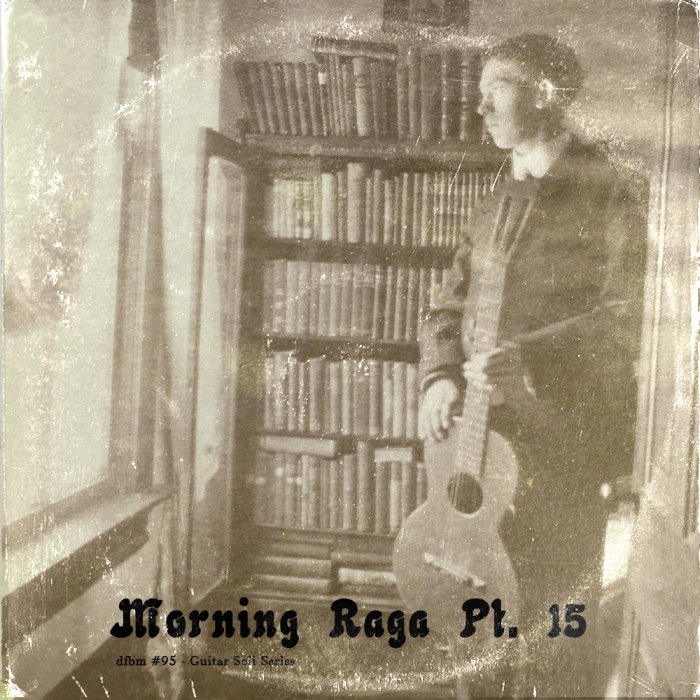 dfbm #95
Morning Raga Pt. 15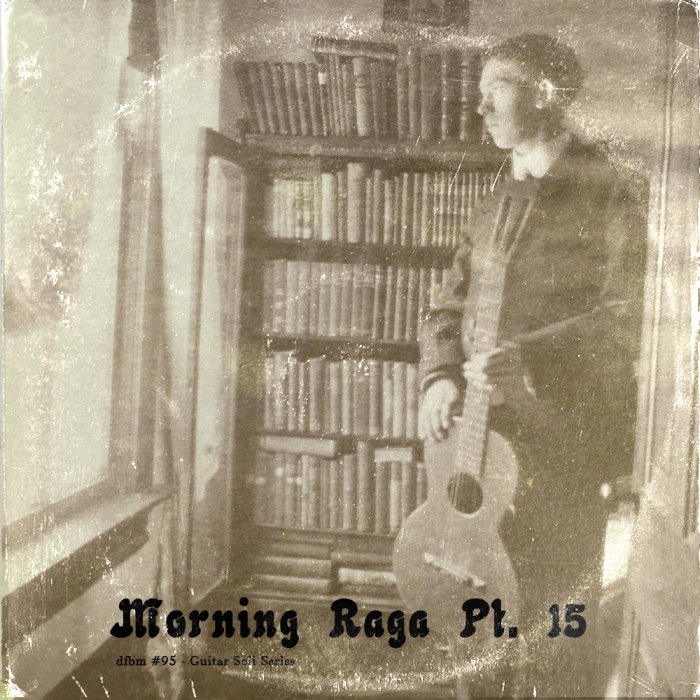 Contemplate over a new episode of Morning Raga and delve into a mix of acoustic guitar-centered music. Sometimes electrified, solo or as a duo, with 6 or 12 strings.
'You're the next guy to inherit the throne, the next Leo Kottke.' said John Fahey to Toulouse Engelhardt1 and just from the opening of Rocky Mountain Bringdown have Kottke in your mind. Engelhardt's sounds like most stories of solo guitarist who started in the late sixties and seventies. Although he was considered as one of the best and pretty busy with playing gigs for Fahey and others, his debut on Takoma Records (before they merged with Chrysalis Records) didn't take off and in the early eighties, Engelhardt disappeared from the music circus for a while. Over the last few years, so many players from that mentioned time period reactivated their guitar and stepped into the light (or got dragged into by getting their forgotten albums reissued). They started to record and release new material like Max Ochs, Richard Osborn or Harry Taussig and even started touring again, like Mark Fossom or Don Bikoff.
Josh Rosenthal of Tompkins Square Records is one of the key figures of that revival, who gave many old and young players a jump start into the music world and many of them took off from there very well.
Harry Taussig and Max Ochs are Takoma Records Veterans who got rediscovered by Rosenthal. Ochs' Raga style was a big influence on Robbie Basho and Taussig released a privately pressed LP in 1965 and accomplished quite a few things in the fields of art and science. Both artists appeared on the Takoma Records compilation Contemporary Guitar - Spring '67 together with John Fahey, Bukka White and Robbie Basho. Now, 50 years later, Tompkins Square releases a split album with brand new material of Ochs and Taussig.
One of my favorites in this mix is Andy McLeod's Upon my Return. When he isn't playing with his friends old-timey string band music, he's composing beautiful solo acoustic guitar pieces. This track is the epitome of what I am personally looking for in this kind of music. The light melancholy, the virtuosity and at the same time the roughness that comes with playing such complicated, layered patterns.
From Pennsylvania, like Andy McLeod comes the duo Elkhorn, consisting of filmmaker Jesse Shepard and e-guitarist Drew Gardner. With the opportunity to release on the respected Debacle Records label, they got the well-deserved attention in the psych folk/guitar community. Personally, I want the music of Jim Jarmusch's Dead Man_2 replaced with the tunes from Elkhorn's _The Black River album.
I'm quite suspicious about Hayden Pedigo (released on Debacle records as well). It seems that this handsome, young man turns every string and every piano key he touches into gold. He worked with music legends like  Fred Frith, is familiar with everything from Fahey over Merzbow to Basinski and performs Karaoke to John Maus tracks for fun. Not to mention the press he got from the NPR or the Vouge magazine3. His new album Greetings from Amardillo comes out in June and of course, it's perfect. A mix of cosmic ambient, highly melodic solo guitar pieces and almost pop music. More soon!
Peace Potatoe is the new album of Doug Tuttle, a sun-kissed, quirky psych/baroque pop album. The title track is an outstanding guitar miniature, so expect something else, but as good as, when you check out his music.
New material from the cassette labels Full Spectrum Records and Cabin Floor Esoterica. Both are known for publishing new talents and having unique cover art. While Full Spectrum is more into digital realms, Cabin Floor Esoterica goes the old-school copy and paste way. Rootless is a release on Cabin Floor Esoterica that consists mainly of acoustic guitar strumming and picking. Often improvised and sometimes with a layer of field recordings underneath. Golconda on Full Spectrum Records is improvised fingerstyle guitar with intertwined electronica that sounds like composed by an still learning AI instance.
Bill McKay is an icon in the Chicago music scene. He worked with Ryley Walker and is part of the post-rock instrumental band Darts & Arrows. If Chicago has a signature sound (John McEntiere, Jim O'Rouke), you'll hear it in McKay's music. His latest album was released on Drag-City.
The cosmos of Kenneth Johnston is something I'm trying to explore since a while. It's a long gone, weird music collective from the Bayou's in Louisiana and influenced by Spaceships, Fahey and The Velvet Underground.
The dark cinematic guitar-scapes of Seabuckthorn are one of my all-time faves ever since I discovered him on the french label Bookmaker Records. Now he's on the American Lost Tribe Sound label, which seems to be a good fit and a great opportunity to reach a wider audience.
Kadonnut Manner4 from Finland and Jonas Meersmans5 from Belgium were surprising finds from the European continent. Worth checking out!
A lot more is to discover here and if you like the mix, share it or leave a comment on facebook and feel free to contact me and send recommendations. -- Marcus
Tracklist
Toulouse Engelhardt

Rocky Mountain Bringdown

Andy McLeod

Upon My Return

Hayden Pedigo

Greetings From Amarillo

Elkhorn

Ohun

Doug Tuttle

Peace Potato

Seabuckthorn

Turns

Kadonnut Manner

Ylikonduktööri matkustaa kotiin

Rick Tomlinson

Living Stream

Lake Mary

River Ceremony (Solo Guitar)

Bill MacKay

Twilight

Tyler Nicholson

Harmony of the Spheres

Golconda

FR 6

Max Ananyev

Oak Tree

The Keithe Lowrie Duet

Twenty Fifteen

Alex Archibald

Sign of The Yellow Whale

Kenneth Johnston

La Luz Adivinadora

Kenneth Johnston

Highland Dances

the modern folk

blue house on a busy street

Rootless

Sculptures Deep Within the Cave

Harry Taussig

The Unlook'd For Sport

Scott William Urquhart

Time Out of Joint

Jonas Meersmans

Minglemind

Max Ochs

Raga

Ross Hammond

Of Course We Will (Follow Your Heart)
Harry Taussig
Toulouse Engelhardt