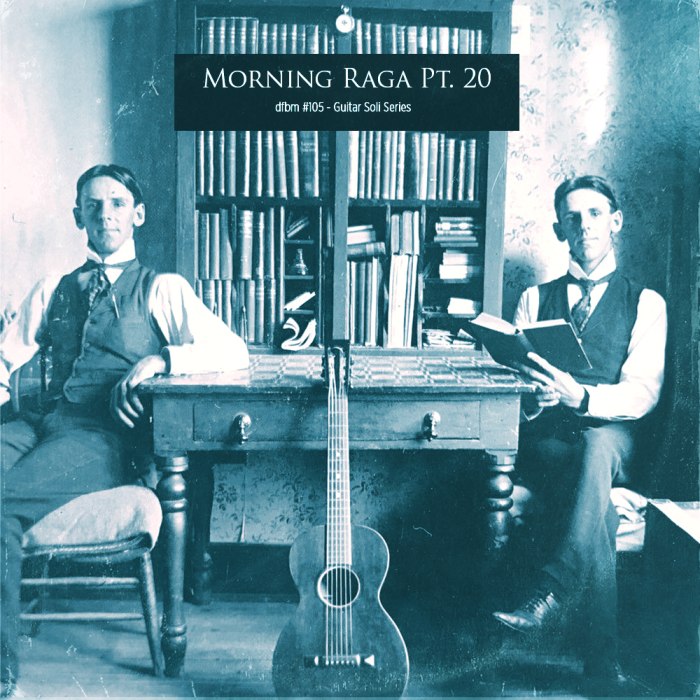 Mixtape
dfbm #105 - Morning Raga Pt. 20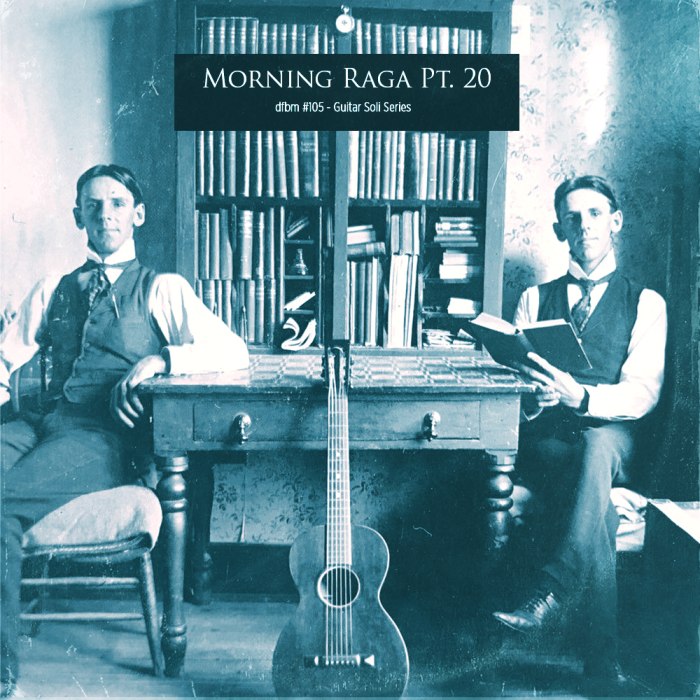 Time for a new edition of the Morning Raga, the mix with focus on american primitivism and solo guitar instrumentals.
These are tracks that are in this playlist forever and I'm happy to finally put them out and I already started a new one.
There is a lot to say about each artist, but I'm not sure if anybody reads that and these days, you'll find out quickly yourself, most of the time.
When ever possible, bandcamp is linked, because that's the way support the artist.
You can stream the mix via mixcloud or download a vintage zip file.
I hope you'll enjoy!
As always, you can support DFBM by buying a t-shirt and share the mixes. Thank you for listening.

---
Tracklist
J.R. Bohannon

Recôncavo

Topias Tiheäsalo

Variations On Albert's Truth

Kerem Atalay

Winter 4

Andrew Schneider

The Banner Corps Are Here

Louis Alberry

No Telling Where

Ross Hammond

We're Coming For You, Paul

Cody Lee

Our Lady of Sorrow

Seabuckthorn

It Was Aglow

Joseph Allred

The Woods in the Day, and Faulkner Ascends Through the Trees

Eli Winter

Live Oak Standing in the Rain

Rob Noyes

Nightmare Study

Peter Lang

Going Down The China Road

Shane Parish

The Cuckoo

Snow Beard

It's Just a Walk

William Tyler

Rebecca

Jim Kennedy

Last Sunrise

Andy McLeod

Sighting

Russell Potter

Eirigh Suas A Stoirin

Ryley Walker

Rocks on Rainbow

Jonny Dillon

That Go To Sleep Rag

Joost Dijkema

Oak Log Perfume

Andrew Schneider

Blood Moon

Sagas

Laurel Hill

Bob Tryforos

Sunflower Slow Drag

Toby Hay

Marvin The Mustang From Montana

Scott Wainwright

Remember the Zoo?

Kevin Farge

Surfing the Point

Sounding the Deep

Green Sky, Golden Sun

Charlie d'Chang

Añejo (en La Faena II)

Lake Mary

So Long Truman

Eli Smith

Guitar Rag

Marcus Eads

Rum River Ramble
---