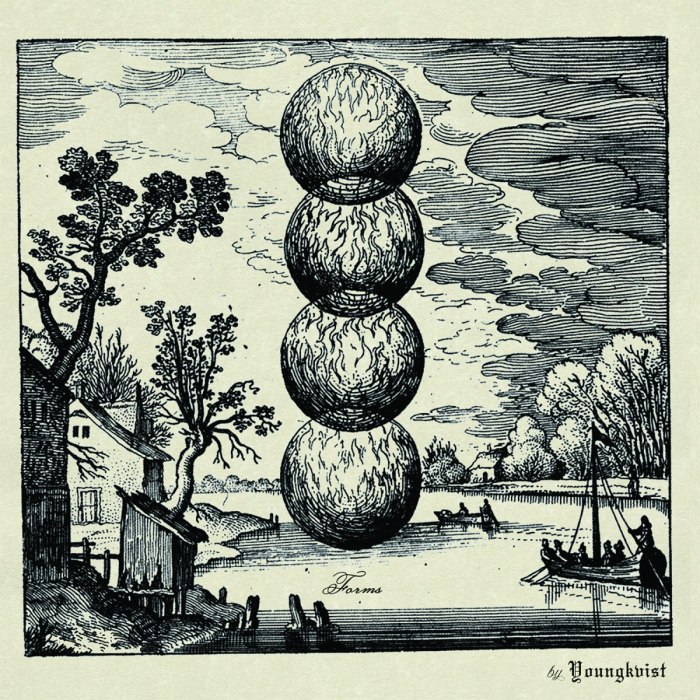 Youngkvist
Forms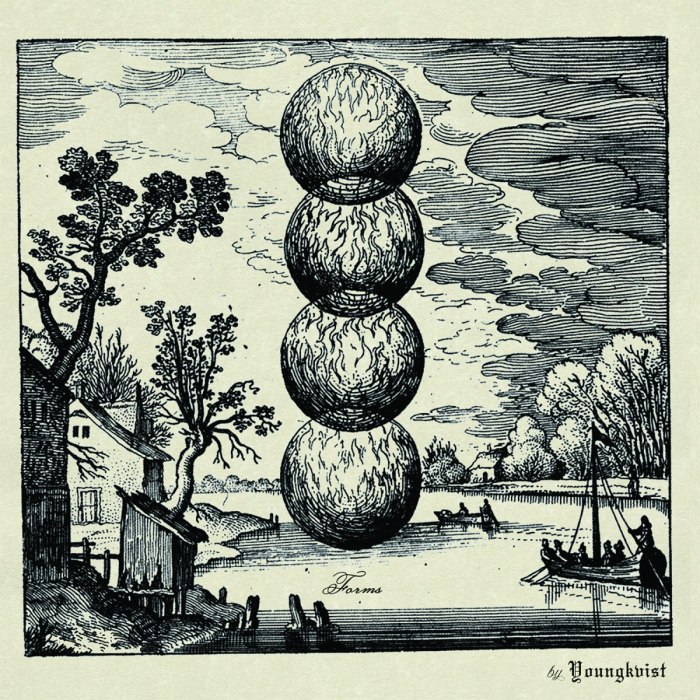 I love field recordings. Recordings of environmental sounds were my photographs. I used to record the sounds of water, nature, and places and embedded them in my own music, like pasting photographs into a photo album. I loved the effect of mild confusion, not knowing if the barking of a dog came from my stereo or from outside my windows. Later I founded a label1 dedicated to this effect, releasing music that contained field recordings vice versa.
Listening to those old recordings brings back so many memories. The early morning bird songs, the cars passing by my house, people talking, neighbors making noise, the playground. And it's also great to have this deja-vu when I hear bird calls that I only know from other people's music2.
Youngkvist is the musical project of Brendan Youngquist from Chicago, IL. On two records, he present an exquisite mix of pastoral fingerstyle guitar tunes, ambient, folky psych-pop instrumentals and field recordings.
The album Forms starts with a muffled, urban soundscape of distant train horns, maybe a street musician and passing cars.
Dusk Bustle opens with the signature picking pattern that almost every american primitive guitar style record is based upon. But soon, after the busy road and other noises are introduced again, a violoncello (or violin) enters the scene. Youngkvist has a great sense to arrange these field recordings in a musical way. I would have loved to have him on my former label. That's exactly what I was searching for.
The next track Union Station gives away the source of the field recording – Chicago's Union Station. And just writing this reminds me of arriving there a few years ago. I wouldn't claim that I recognize the sound now, it could be any city, but it's still an interesting feeling to be aurally connected to a place, instead of visually.
It seems like the record moves from the city into the fields outside of town. Green Eyes sounds much more pastoral with the crickets and the frogs.
The sound of rain and thunder is another classic in the field recordist playbook. Youngkvist uses those sounds for the track Waking the Flood - an uplifting tune on guitar, banjo, and violin accompanied by rain, thunder, and gurgling water sounds. The dramaturgy of the song and how the field recordings change the dynamic is quite masterful in my opinion.
The closing track Skyward is a driving piece with drums and it sounds like the excitement of being back in the city. I would also diagnose a Chicagoean sound, like Gastr del Sol3 or the like.
While the album Forms is packed with positives vibes, the sister album Creatures I is darker, spiked with electronic experiments and more reverb and distortion on the guitar.
Both albums were released on Meliphonic Records a label, I think it's operated by Joseph Allred4, another name you might recognize. Forms and Creature I are available in a small edition on vinyl or as a download. According to the Youngkvist facebook page, Forms is from originally from 2013.
Highly recommended!
Thanks to @erretter for the recommendation
Irv Teibel5