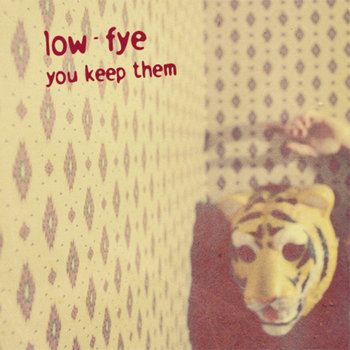 This must be the ghost of Syd Barrett who is recorded onto dictaphone.
19 tiny songs full of tape hiss and reverb. You always hear the click of the record button at the beginning, then some pretty remindable melodies, a whispering voice and ghosts that speaks through the tape hiss. Then clicks the stop button and the ghosts voices are still present in your room, in your head. But they would not harm you. They are like friends.

Find out more here: http://dyingforbadmusic.com/dfbm-03-low-fye-you-keep-them.phtml
  powered by bandcamp
[DFBM]
LOW - FYE – You Keep Them - available as of april, 13th
Genre:

Lo-fi Candy


Label: Dying For Bad Music
If you like Syd Barrett, Elliot Smith, Daniel Johnston
, early Woods
This must be the ghost of Syd Barrett who is recorded onto dictaphone.
Tiny songs full of tape hiss and reverb. You always hear the click of the record button at the beginning, then some pretty remindable melodies, a whispering voice and ghosts that speaks through the tape hiss. Then clicks the stop button and the ghosts voices are still present in your room, in your head. But they would not harm you. They are like friends.
You Keep Them by low-fye
You can pre-order the Low-Fye – "You keep them" disc now, for just 6 EUR plus shipment. 19 tracks of unpolished diamonds, wrapped in a pretty neat folder with photographs by Marie Ince.
These songs will stay in your head and you will keep them forever.
Preorder here.
PS: We competing with MGMT's new album which will be released as of april the 13th, too!
We have a small lead over MGMT because the Low-Fye album didn't leak so far. :)