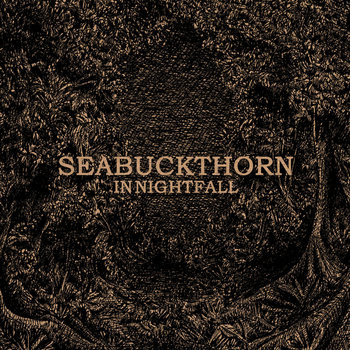 Music By Andy Cartwright.
Artwork by Valentin Féron

Released by Bookmaker Records
www.bookmakerrecords.com/
CD boxed in Silkscreen Cardboard Arigato Pack.
7 tracks (23'03)
BKM03 / Ltd 100 *SOLD OUT*

"For an album with only seven songs, that clocks in at only 23 minutes, In Nightfall is a truly cinematic affair and, as we've come to expect from Seabuckthorn, breathtakingly beautiful and evocative. The imagery that supports Seabuckthorn's releases has always provided us listeners with a starting point, or a springboard, from which to mentally traverse vast, hushed landscapes, unforgiving deserts, solemn forests, ancient temples, hot dusty roads; locations that most of us never get to see. The music provides us with the soundtrack for our journey."
www.musicinoxford.co.uk/2011/07/09/seabuckthorn-in-nightfall-bookmaker-records/
  powered by bandcamp
Seabuckthorn
In Nightfall
Another magician on acoustic steelstring guitar. Great soundscapes - droning, ringing, shimmering.
I love the slide in Journeyed Road - is just wonderful.
If you are into stuff like Cam Deas, Ilyas Ahmed and last but not least Six Organs of Admittance, please check this out
Released by the French Bookmaker Records who brought us the brilliant Michael J. Tapscott album.
Sold out, but maybe you'll get a copy via some distros?