All songs composed, written, recorded, performed, mixed and produced by Christian Richer

Additional arrangements by Einar Jullum Leiknes

Recorded and produced at Kinnta studio - Montreal, Canada from 2009 to 2011

Mastered by Harris Newman

Additional guitar, flutes vocals and keyboards by E.J. Leiknes

Flutes by Hannah Rahimi

Clarinets and saxophone by Dan Pencer

Mastered by Harris Newman

Photography by Jessica Hébert

Designed by Christian Richer
Released on Kinnta Records

FUCK the 60s. It's 2014 now and we're all feeling healthy and free and loving and we don't feel the need to put a label on it because then Coke/Cola would get ahold of that shit. This is ours. I just wish I knew what the hell it was.

Grant 'GUMSHOE' Purdum - Tiny Mix Tapes
  powered by bandcamp
Christian Richer, The Haiduks, Kinnta Records
Interview
I asked Christian Richer of Kinnta Records a few question about his music projects and his label, tapes and the absence of release strategies and it seems we would be good friends if we were living closer to each other. At least we both flounder with passion through the music business.
Christian provided some exclusive The Haiduks demos. So start the music and read what he have to say and buy his album!
# Hi Christian, how are things going in Canada? How are you?
Very good Marcus! I'm keeping busy with lots of projects and working hard all the time. Canada is treating me well and I am surrounded with great people. Can't complain!
# You are a musician, music-enthusiast and label-boss. How do all these roles work together or interfere with one another?
I really try hard to be the best I can in all of those roles, however sometimes I feel really discouraged about it. I want to be a great musician, a great producer, a great designer, have a great label, but I always find myself falling short. I'm super ambitious and I feel like I never get enough done. But I love music so much and feel that apart from family and friends, it is the thing that's keeping me alive. Regardless of how good or bad I succeed, even if I'm not the best at any of those things, I'm still working hard at it, everyday.
# The first time I heard about you was The Haiduks' video "Used Up My Time." I really liked the sun-drenched images and the overall fuzz and bliss. At the time, I couldn't locate any other tracks by The Haiduks, so I found your Space-Drone project "Élément Kuuda."
So tell us about the transition from cosmic soundscapes of Élément Kuuda to the fuzzed out Psych Pop of The Haiduks.
Had you all collaborated on other projects before Élément Kuuda?
Well actually, there never was a transition. I consider myself as a sound artist even more than a musician or an engineer. It all started when I was 15 (1995) and I discovered that with two of my dad's tape decks and a cheap Radio Shack microphone mixer, I could create overdubs of myself playing and make my dream band alone. I was super into classic rock (60s and 70s) and also listening to the Canadian East Coast scene a lot, (Sloan, The Super Friendz, Eric's Trip) so I wanted to have a band that sounded like this. Living in the suburbs in the mid-90s, all my friends were listening to skate punk and metal, so it was impossible to have a band and make the kind of music I was interested in. People either made fun of me about it or they weren't interested at all. So, in 1998 I bought my first 4-track along with Portishead, and OK Computer, I went to see Godspeed You Black Emperor and my life changed from that point on. I 've been making ambient music and indie rock ever since, but I was always too shy and embarrassed to expose (or even mention) my pop songs to other people. I released and performed my ambient music to the public instead.
THE HAIDUKS - Use Up My Time from Moduli TV on Vimeo.
So that being said, Used Up My Time was a song I did in 2003 on my 4-track. I was really drunk one night after a long day at school and at the time I was over-consuming My Bloody Valentine's record "Ecstasy and Wine". I recorded the song on the fly while singing some of the lyrics to King Crimson's - "I Talk to the Wind" overtop. Years later, when Frank from Hobo Cult was curating a compilation for Beko DSL, I finally got out of the being-embarrassed-about-pop-closet and proposed the song to him under the band - the Haiduks. I was also working on "1968" at the time.
# May I tell the story about how I get to The Haiduks 1968 album?
Ok, I was so psyched by "Used Up my Time" that I tried to find more by this group. I read something about a tape release on Foxy Digitals and another blog wrote about it. But there was nothing else to find, so I looked at soulseek and there was a guy who shared the album. I was so excited. Unfortunately he took it off, explaining that he is not allowed to share it. It was a friend of yours that you had played with in another band.
So that was fine with me. At least I tried.
My next attempt was to find more Élément Kuuda stuff, and maybe by looking at the streaming url on the Weird Canada blog, I found a folder on your webspace that was... browseable... and I nearly fell off my chair when I saw a folder called The Haiduks, containing the mastered wav files of the album 1968.
I downloaded it immediately and wrote you an email about this hole in your business.
From the first drum tones of "Diamond Drops" I knew, this is my thing.
I waited for this album to be released, but at some point I forgot about it.
When it came back to my mind, a year or so, later, I wrote you an email, asking what's going on and if this album is to be released soon.
Your response was "First, it's out and has been for quite a while now. Don't get me wrong here, I'm just saying that cause it makes me laugh... It amazes me to know that you found some hidden stuff online and managed to download a hidden album that I put on the server... But man, if you simply write Haiduks on google, you will most likely find my LP rather easily. It's not a secret... I have plenty of copies for sell, so no worries about missing it,..."
I ordered it immediately!
# So what was the inspiration to record "1968"? It is a beautifully warm and retro sounding summer album.
I was surprised it didn't get more attention from sites like (the almighty) Pitchfork, since all this neo-psych was kinda hot this summer (I look at you Jacco Gardner on Trouble In Mind Records!). Did you expect it would get more press?
Hahaha! I sound like a douchebag! Yes I thought I would've had more press, but I totally understand why I didn't and it's because I am a bad businessman. When you have label or make a release, a lot of the work has to be put into promoting it. You have to send it to blogs, announce it to people and so forth. I think that because of the ocean of good music and records coming out these days, along with the easy access to make and/or consume it, you have to be really smart about creating hype around your work by putting an enormous effort towards marketing. For a million reasons, including personal life experiences my record took forever to release and I feel like I failed at giving it a proper launch into the world. I honestly put all of my heart into that record and it is the only album like it that I've ever done. It is to me a personal reflection and homage to all the music I love and I insisted on making it the way I wanted it to be. It makes me feel good to think that I put out a record that will probably hit some dollar bins and find its way into a crate diggers heart 75 years from now. But who knows, maybe it will never make it. Nonetheless, a lot of people have been telling me nice things about it and that really means a lot.
# You also released a 7" on BEKO, known for their digital singles series. This release is again more noisy and fuzzy shoegazer pop. So what can we expect from The Haiduks in the future? Will you shift between sixties psych pop and noisy garage pop?
recorded, produced and perfomed_ christian richer at kinnta studio, montréal, qc, canada

additional vocals_jordi rosen
drums_maxime brisebois
on air lyrics_ nathan medema
additional synthetizers_nicolas lê quang
mastering at offoronstudio

beko_101 the haiduks feat. jordi rosen_on air

"It never ceases to amaze me how well Christian Richer does it. When he's not recording sky high jams as Élément Kuuda, retro-prog symphonies as Soft Mirage or running Kinnta Records, he busts out the guitar riffs and lifts off into psych-pop heaven with The Haiduks.

This first 7" takes a deep plunge into shoegaze territory and emerges wet with psychedelic washes. The hazy yet defined aura of On Air is a special blend of heavy fuzz, timeless melodies & beautiful back vocals by Jordi Rosen. This is truly a great single that is sure to get stuck in your head as soon as you hear it. A definite summer classic."

Francesco De Gallo_Hobo Cult Records

  powered by bandcamp
The tracks on the Beko single were a couple of songs that I also did around 2004. I sent them to Beko and he proposed that I release it on his label, so I did. A few of my friends have been also involved in helping me create my musical world, especially my friend Einar. He has also collaborated on "1968" and we continue to play in each other's bands and make music together. We have a very strong collaboration. I'm not sure what the Haiduks are becoming in terms of the future style and sound of the band. We've spent most of the year doing live shows. Along with Matt from Expwy, Jack from Ollie North, and Ian from Chairs, we are currently collaborating in playing in each other's bands as session musicians. So I guess one could say that we are slowly turning into a community.
# You founded Kinnta Records to release your friends and your own music.
What does it mean in these days to start a label from scratch and what are your strategies to survive in this rich (or call it overcrowded) musical landscape of today?
That is a very good question, I have been thinking a lot about this subject the past few years. I guess the world has changed. People don't really need a label anymore. Now artists have the ability to manage themselves and because of computers and Internet, everyone can make it alone. That aside, I think the natural human instinct is to still reunite and identify as a group of people. I don't see it as trying to be like Capitol Records or EMI or whatever, it feels more like an extended family of outsider musicians. Usually the people who start an independent label like this are artists who have a sense of design and a general vision of something. Some of the label owners have more of an artistic thing and not a good business plan, some people have a good business plan but are not so much aesthetic oriented, some have both, some none. Most of artists are more introspective, but some have the skills required to run a label.
# Currently there is a boom of tape releases in general. Why do you think this so-called dead medium has remained the format of choice in DIY culture since its height of popularity in the 80's?
I think a lot of it has to do with the arrival of the digital format. I love tapes and think it's almost as cool as a vinyl, but I honestly think it's a fad. Back then it was a more practical medium and offered an alternative format to the vinyl record. It was cheaper to get and you could play it in your car or Walkman, ghetto blaster, etc. Today tapes have become an artistic object. You see them now packaged differently and beautifully, often with slick colours and elaborate concepts. You would also buy the blank ones to make your own mix tape or dub your mates Iron Maiden collection for instance. The hype around here in the early 2000s was the 3-inch CDrs. A lot of artists were releasing on this format and then at some point when Bandcamp, iTunes along with the increasing popularity of the ipod, CDs became rather pointless to indie artists and redundant to most of people. Most of the people I know don't own a CD player apart for some people who use their computer to play music. So that being said, I think that tapes have become the medium of choice for several reasons: it is an analog medium, it's a cool retro object, it sounds different and unique like a vinyl records and it's not just data, like a download, so people have an "original" as opposed to a replica. You can make as little as you want in terms of quantity, you're not obligated to make 500 copies or more. Most of them have a personal touch making it feel like it was crafted by a person, as opposed to manufactured by an industry like in the case of CDs or even records. But I still think the cassette culture is a by-product of digital culture. I think that these days the general public are not into the medium, but the appliance. People are more excited about the gadget they listen to music with, then the music itself. As a sound lover, I do get a real kick out of listening to a good quality digital album on a sweet-ass sound system. No artefacts or degradation, you really listen to the intention of the sound artist in it's pure essence and that to me is what it's all about.
# KNN004 is a release by Einar Jullum from Norway. What was the general response to this, because it was sung completely in Norwegian?
Was there also any feedback from Norway or did the release get stuck between two worlds?
Music, lyrics and arrangements by Einar Jullum
Produced, mixed and engineered by Christian Richer

Recorded at Kinnta Studio, Verdun, Canada during
September 2011

Einar Jullum - vocals, guitars and keys
Christian Richer - bass and sound treatments
Patrick Sénécal - drums and percussion
Hannah Rahimi - flutes
Dan Pencer - saxophone and clarinet

Photography by Jessica Hébert - montage and treatment by
Christian Richer

Designed by Christian Richer

Takk til: Chris, Pat, Hannah og Dan, 27. Rue St. Zotique,
Ben (même si nous l'avons pas demandé), Tom, Nico, Jessica,
Maxime og Maxime.

Buy compact disk or tape (/A Fair Pair/ which has /1968/ by the Haiduks on the A-side) at Wyrd Distro:
http://distro.weirdcanada.com/products/einar-jullum-hjerteknuser-og-andre-blues
http://distro.weirdcanada.com/products/the-haiduks-einar-jullum-a-fair-pair

Released on Kinnta Records
KNN004

[A] truly special album in its otherworldliness and smooth precision.
-Grayowl Point

[W]onderful sunny music with references to country, blues and garage pop, candied with psychedelic sugar.
-Dying For Bad Music

"It's got a bluesy backbone – might be the only time I've ever used that phrase to compliment an artist – and guitar parts that snap into place so perfectly it's almost suspicious."
- Tiny Mix Tapes

"These are blues for halcyon days, sky-blues and sea-blues that rent apart a grey status quo, revealing and revelling in melodic twangs and prairie noodling not dissimilar to Arthur Russell's folksier offerings. Jullum's guitar meanders, pulsates and jitters along a heartworn highway, filtered through feathered drumlines, 12-bar blues sewn to husky Norwegian annunciations. Pastoral pop contemporaries notwithstanding, Jullum is countrified without being Kentucky-fried.
-Weird Canada

  powered by bandcamp
I think the honest response is that it made absolutely no impact whatsoever in any of the two worlds and I don't think it's a language factor. It's mainly because of the lack of publishing skills on my (Kinnta) behalf. I think Einar is a brilliant composer/performer, but nobody knows him. The people I know who got it, really loved it. It's a rich album full of styles and sonic explorations made with tremendous taste. He dared to make a fresh, blues album- which in our days in this music scene, the word 'blues' is probably the most uncool thing you could say or do. He made it sound so unique, modern and with some tasteful, conscious clichés. I am currently working on his new record, which is in a completely different style, and it is mind-blowing good. I really hope that he gets the attention he deserves for his brilliant song writing.
# Tell us about the other releases on Kinnta. Are those all friends you work with?
Norm, from Soft Mirage, made most of the album and I co-produced and played instruments with him via ftp. We got to know each other on Facebook where we met through the synth/drone tape scene. We've never met in person, but we became friends by chatting and we share the same love for music. We both know that if it weren't for the distance factor, we would hang out all the time. In the case of Feel Alright, I didn't really know the guy beforehand. Jesse Locke from Weird Canada is a friend of mine and Craig (Feel Alright) is a friend of his. When Jesse gave me his version that was released on Planet of the Tapes, I listen to it non-stop all summer. Then after the batch was gone, Jesse asked me to reissue it for their tour, so I did. Galaxius Mons and Chairs were also reissues, which I thought were brilliant albums that flew just under the radar. These guys are my close friends and I wanted to collaborate and help them have a larger audience. Expwy: Deep Joy is our newest release. It is Matt LeGroulx's music which is a carefully crafted 70s power-pop sounding album. I mixed that album and designed the packaging and I am (we are) very proud of it.
# What are your plans: More vinyl or magnetic tape?
Two more tapes will come out. One being Ollie North or Jack Deming, (he is still not sure which name to use.) It is very ambient pop, loopy-folky guitars with lots of beautiful vocals and harmonies. We'll also be releasing JLK, which will be a road album of psych/rock and country. It will be a very vocal-oriented album that I will produce with her and Einar. Then, we might want to do a blog/e-zine or something and release more digital albums and compilations. Every now and then occasional releases will be on vinyl records.
# Anything you want to recommend? Any art, movies or music that have inspired you lately?
I'm into tones of music these days so this could be a very long answer! But I think that I've already written more than enough. I've been really into listening to albums by Washed Out. I find that I always have my favourite shoegazer-synth-pop-feel-good artists and he's definitely filling this role right now. I'm also really into Freelove Fenner, Brave Radar, Sheer Agony, all from Fixture Records which is a label owned by friends of mine and an imprint that I love. Tame Impala- I think this guy is an amazing artist. He makes total retro-sounding music, with a modern way of composing it, plus his songs are beautiful. I've also been back into listening to 80s new wave and IDM. For experimental and electronic music in Montreal, Los Discos Enfantasmes and Hobo Cult Records are my favourite tape labels. Their products are always well crafted and they release amazing artists. Frank is a pioneer and a great label artist. His work with Hobo Cult Records, his music, design and vision has had, in my opinion, a huge influence on the whole tape revival scene. He was certainly a big inspiration to me.
Thanks to Christian for taking time to answer the questions, share his thoughts and digging in his archives! Thanks also Dr. Patty P.
The Lemon Tape Compilation is a classic in Garage Psych Pop from Planet Kinnta and its free!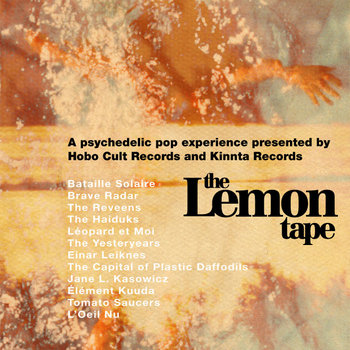 compilation created, produced and mastered by Christian Richer at Kinnta Studio during the fall of 2011 in Verdun, QC, Canada

artwork and design (front) by Christian Richer
artwork (inside) by Francesco De Gallo
photography by Pierre Richer

tapes from duplication.ca - dubbed at Kinnta Studio

thanks to all artists and supporters...

Hobo Cult Records / Kinnta Records (HCR067)

  powered by bandcamp
Interview by Marcus Obst