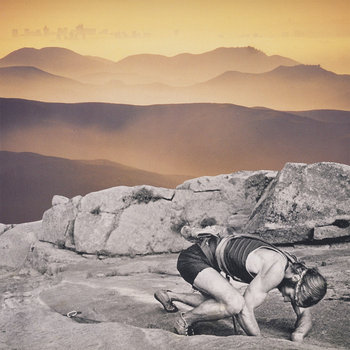 Jeff Moller
Michael James Tapscott
Raphi Gottesman

------------

Eric Amerman - mixing, mastering
Connor O'Sullivan - mandolin
Jason Quever - cello
J. Shelley Harrison - artwork

------------

The BayBridged:

China, the excellent project of Jeff Moller, Michael James Tapscott, and Raphi Gottesman, just released their second EP, Towards the Sun. The trio performs together in Odawas, but this project is much more roots-based than the spacey Odawas vibes. Although everyone takes their turn on lead vocals, but there's plenty of delightful harmony where everyone gets a chance to sing, (although the boys in China aren't sure why they're there if you believe what they say on "May 21″.) Alleged confusion aside, China does a damn fine job making this kind of music.

------------

Tome To The Weather Machine:

Raphi Gottesman's Signed, Noisemaker is one of those tapes that has never really left my player. In it, the multi-instrumentalist shows a sincere and humble knack for crafting melody and mood in compositions that are complete in every way. Gottesman, with China - a proper band-band EP with Michael Tapscott (Odawas) and Jason Quever (Papercuts - who donates some gorgeous strings here) - create perfectly sunbaked, Laurel Canyon country-tinged, free-floating deep-cut LP rock of the late sixties filtered through the modern day exodus out of San Francisco, a move directly tied to the 60's exodus into the city's loving embrace. This is music for hitching up the wagon and ho'ing out west into the land of displacement - the sun always on the back of our pioneers as they flee the bright, cultural wasteland of tech-industry wealth - not the diseased-gum gnaw of Midwest poverty and squaresville Dads. These are songs for the diaspora, and they are beautiful - the same kind of feeling of stumbling across a dusty LP of long-haired dudes and hearing some of the most transcendent melodies and harmonizing this side of Garcia. Fans of recent troubadours The Lowered, Midlake and Howe Gelb should find ample purchase in these five songs.

------------

Dying For Bad Music:

Imagine you get into your car on a rainy April day in Atlanta and five hours later you'll end up in Florida at midnight and the air is warm and soft. On this trip you have a thousand tracks on your iPod and only 5 gets played over 5 hours in repeat1). In our case it was China, kind of a all-star project of not enough well known musicians.

China is Michael J. Tapscott who recorded phantastic spaced out music with Odawas, collaborated with Donovan Quinn (of The Skygreen Leopards) and released wonderful solo records. Jason Quever, recorded one of my favorite dream pop records as Papercuts. Raphi Gottesman who just recently released a tape with some slow motion, almost static ambient pop. And Jeff Moller, together with some other collaborateurs.

To me, Tapscott's and Quever's influences on China are the most obvious (even if Quever is just helping out on the cello here). It's Tapscott's gentle voice, the harmonica he used in the past and that reminds me a bit on a cosmic Neil Young without the double denim and the mellow sun flooded sixties psych pop of Papercuts.

Since the best things in life are free, this album as well as the previous one by China can be downloaded for free or you pay what you want and support some great musicians to record more music.

Highly recommended!

1.) I exaggerate here, we listened to the album maybe 5 times in a row
  powered by bandcamp
China
Towards The Sun
Imagine you get into your car on a rainy April day in Atlanta and five hours later you'll end up in Florida at midnight and the air is warm and soft. On this trip you have a thousand tracks on your iPod and only 5 gets played over 5 hours in repeat1). In our case it was China, kind of a all-star project of not enough well known musicians.
China is Michael J. Tapscott who recorded phantastic spaced out music with Odawas, collaborated with Donovan Quinn (of The Skygreen Leopards) and released wonderful solo records. Jason Quever, recorded one of my favorite  dream pop records as Papercuts. Raphi Gottesman who just recently released a tape with some slow motion, almost static ambient pop. And Jeff Moller, together with some other collaborateurs.
To me, Tapscott's and Quever's influences on China are the most obvious (even if Quever is just helping out on the cello here). It's Tapscott's gentle voice, the harmonica he used in the past and that reminds me a bit on a cosmic Neil Young without the double denim and the mellow sun flooded sixties psych pop of Papercuts.
Since the best things in life are free, this album as well as the previous one by China can be downloaded for free or you pay what you want and support some great musicians to record more music.
Highly recommended!
1.) I exaggerate here, we listened to the album maybe 5 times in a row
Trip starts at 0:23