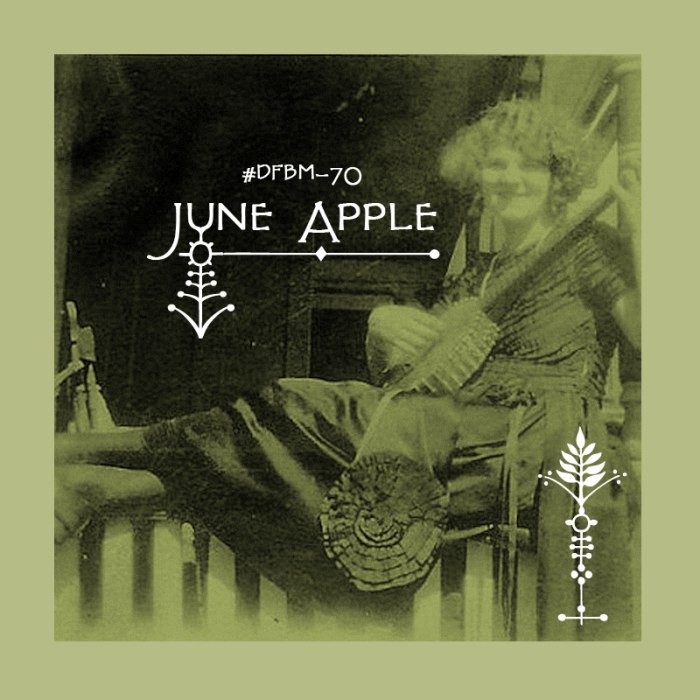 dfbm #70
June Apple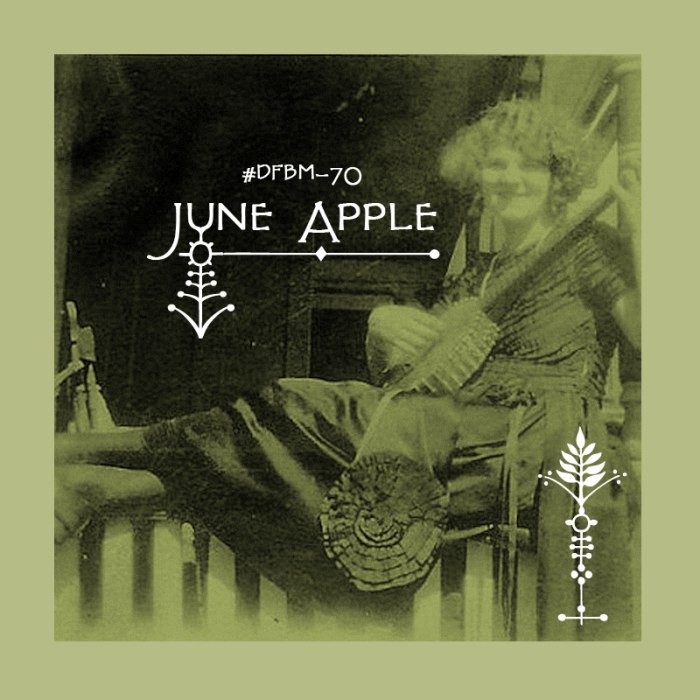 Welcome back to over an hour of old time jams, banjo pickin' guys and gals and music scratched out of rusty wires.
Most stuff is old and from the well known sources like  Smithsonian Folkways, Dust-to-Digital, Tompkins Square.
Speaking of Smithsonian Folkways, Daniel Bachman curated a mix for them and I shamelessly pulled a track from there: Leonard Bowles & Irvin Cook. Really intense stuff!
Other tracks are probably more obscure.
Meitheal is a Mike Gangloff related project, he reappears here again with the Black Twig Pickers and Steve Gunn.
Marisa Anderson contributed once the music to the documentary "For the love" of Dolly Parton and it fit on here pretty well.
I wish there was more music by Mabel Cawthorn out there. It's so raw and wonderful.
Also in between, some shameless self promotion of Lebo Jenkins and Andy McLeod whose music was recently released here on DFBM and my favorite American Folk duos, Lac La Belle from Detroit and The Matchsellers from IN/MO are on here too!
Sad to see that Frank Fairfield is stepping back from the picking business. I am going to see him next week in Dresden. I hope. And I can't believe he won't touch an instrument anymore.
Download dfbm #70 Stream dfbm #70
Playlist
Danny Kroha ~ The Road Is Rough And Rocky – (from Angels Watching Over Me, 2015) web
The Kossoy Sisters With Erik Darling ~ Bowling Green – (from Bowling Green, 1997) amazon
Uncle Dave Macon ~ I've Got the Mourning Blues – (from Uncle Dave Macon, 1963) amazon
Nathan Bowles ~ Jonah/Poor Liza Jane – (from Nansemond, 2014) web
Rob Stenson ~ Wind that Shakes the Barley – (from Gold Mountain EP, 2013) web
Meitheal ~ Sacred Harp 159 (Wondrous Love) – (from Early in the Spring, Late in the Fall, 2013) web
Robert Wilkins ~ Police Sergeant Blues – (from The Original Rolling Stone, ) amazon
E.C. Ball ~ Bobby Halsey – (from Old Mother Hippletoe (Rural and Urban Children's Songs), 1978) amazon
Obray Ramsey ~ Little Maggie – (from Good Old Mountain Dew: Banjo Songs Of The Southern Mountains, 1956) amazon
The Kossoy Sisters With Erik Darling ~ Willie Moore – (from Bowling Green, 1997) amazon
Leonard Bowles & Irvin Cook ~ Wish to the Lord I'd Never Been Born – () web
Lebo Jenkins ~ Little Birdie – (from Couch's Barn and Fretless, 2015) web
George Edgin's Corn Dodgers With Earl Wright & Brown Rich ~ My Ozark Mountain Home – (from Arkansas at 78 RPM: Corn Dodgers and Hoss Hair Pullers, 2014) web
Fred Cockerham ~ June Apple – (from High Atmosphere, 1995) amazon
Smoke Dawson ~ Connaughtman's Rambles/Devil's Dream/Marche Venerie – (from Fiddle, 2014) web
Richard "Rabbit" Brown ~ James Alley Blues – (from Anthology Of American Folk Music, 1952)
Charlie Poole with the Highlanders ~ A Trip To New York, Part II – (from The Complete Paramount & Brunswick Recordings, 1929 , 1929) amazon
Bob Gebelein ~ Provincetown Girls – (from Uncle Bobby's Record, 1974) web
The Matchsellers ~ Leaving Burket – (from Kosciusko County, 2014) web
Andy McLeod ~ Wildwood Flower – (from Forge the Valley, 2015) web
Steve Gunn & Black Twig Pickers ~ Dont Let Your Deal Go Down – (from Seasonal Hire, 2015) amazon
Lawrence Walker & Wandering Aces ~ Osson Two-Step – (from Mjcr029 - Hypnotic Cajun & Obscure Zydeco 2, 2015) web
Lac La Belle ~ Rusted Bolt – (from A Friend Too Long, 2014) web
Marisa Anderson ~ For the Love – (from For the Love, 2005) amazon
Zac Johnson & the Yankee Entertainer ~ I Lost My Gal – (from Joyboy Mixtape Vol. 3, ) amazon
Mabel Cawthorn ~ The Dying Girl – (from Folk Visions And Voices: Traditional Music And Song In Northern Georgia - Vol. 2, ) amazon
Harry & Jeanie West ~ Wild Bill Jones – (from Southern Mountain - Folksongs and Ballads, 1940) amazon
Frank Fairfield ~ Duncan & Brady – (from Duncan & Brady, 2014) amazon
Jake Xerxes Fussell ~ Raggy Levy – (from Jake Xerxes Fussell, 2015) web
Henry Thomas ~ Railroadin Some – (from Bull Doze Blues, 2012) amazon
Alfred G. Karnes ~ When They Ring the Golden Bells – (from Steve Roden - ...I Listen to the Wind That Obliterates My Traces, 2011) web
The Lonesome Pine Gospel Singers ~ You Never Mentioned Him To Me – (from Tribulations, ) web