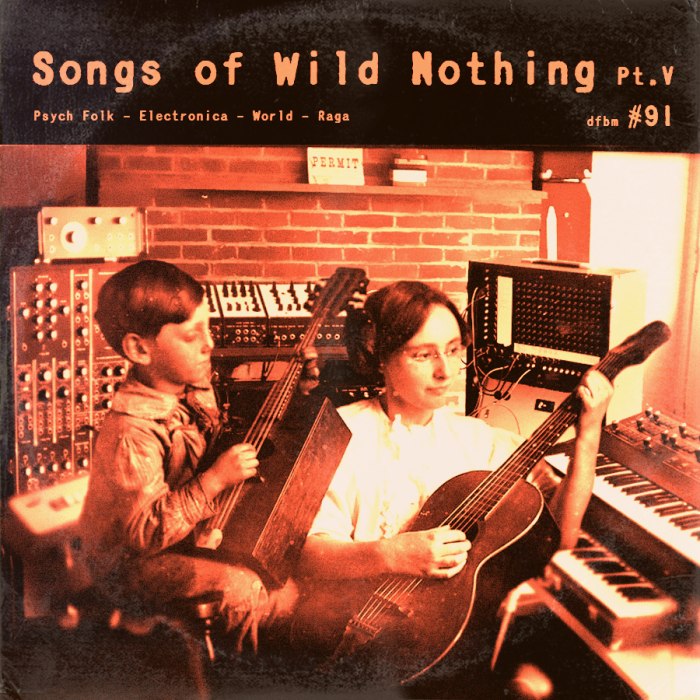 dfbm #91
Songs of Wild Nothing Pt. V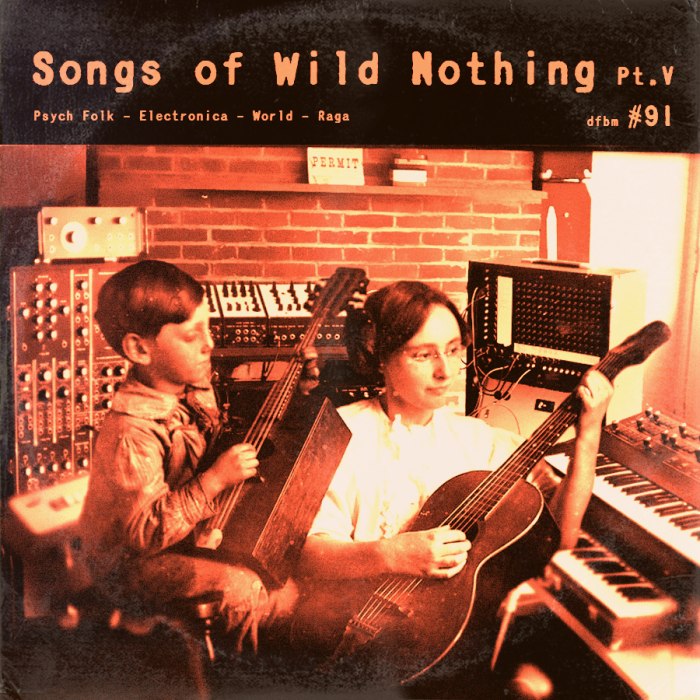 A new edition of my mix(tape) series "Songs of Wild Nothing". Two hours of vernacular electronica, psych folk, fake world music and desert blues.
Initially I planned this to be a pure drone, ambient mix, but I fell asleep while compiling it.
Enjoy some early and obscure electronica by Laurie Spiegel and Ursula Bogner, as well as the early work of Frank Brettschneider (Stein im Brett) of Raster-Noton and The Revenant soundtrack fame.
Braden J McKenna reactivated his old shoegaze band project Weighted Pines after he was releasing mostly new age and ambient music on Inner Island. Very prolific guy in the past. I lost track, so I don't know what he was doing the last 5 years. (I guess this is one of his side projects.)
Please check out the Lukas Read release Neo Age, it's a great release of cosmic fingerstyle guitar and for this mix I've chosen the drone piece "Draga".
Anubian Lights was my favorite space rock group for a while. They did some great albums in the late nineties, somewhere between lounge music, exotica and space rock. "Naz Bar" was probably the most popular. Nice sequencer-synth-bleeps on "Vision Of A New Homeland".
I spare you more blurb. Nobody is going to read that.
Hopefully you like this mix and please spread the word and subscribe to the newsfeed to not miss any new music.
Tracklist
Stein Im Brett

Tanzstunde

Weighted Pines

Don't Change My Head

Kenneth Johnston

Prepared Guitar Rhythm

Doc Holiday

(I Dreamed I Went) Sailing Last Night

Diente de Madera

The Cuckoo

Lukas Read

Draga

Razen

Reaper

Mount Elephant

Mount Elephant II – 06

Frank Bretschneider

Dunkler Raum

Ursula Bogner

Punkte

Laurie Spiegel

Appalachian Grove II

Wizardzz

Sailship

Anubian Lights

Vision Of A New Homeland

Jeremy Harris

Release Technique I

Egle Sommacal

Becco D'Anatra

Scott Hirsch

Raga Of The Sea

Ali Farka Touré

Karanda Bala Bozo

Buck Curran

Seven Gardens to Your Shore

of rivers and trains

2

Dariush Dolat-Shahi

Sama (Tar and Electronic)

Odawas

Black Iron Awakening / The Empire Never Ended

Tesendalo

Vendig

Amber

Sea Shell Rock Me

Light Sleeper

Special Interests

Michael Snow

Raga Lalat

Stars Of The Lid

Anchor States (Part 1)
shameless self-promo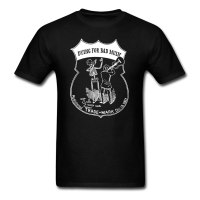 American Primitive Apparel