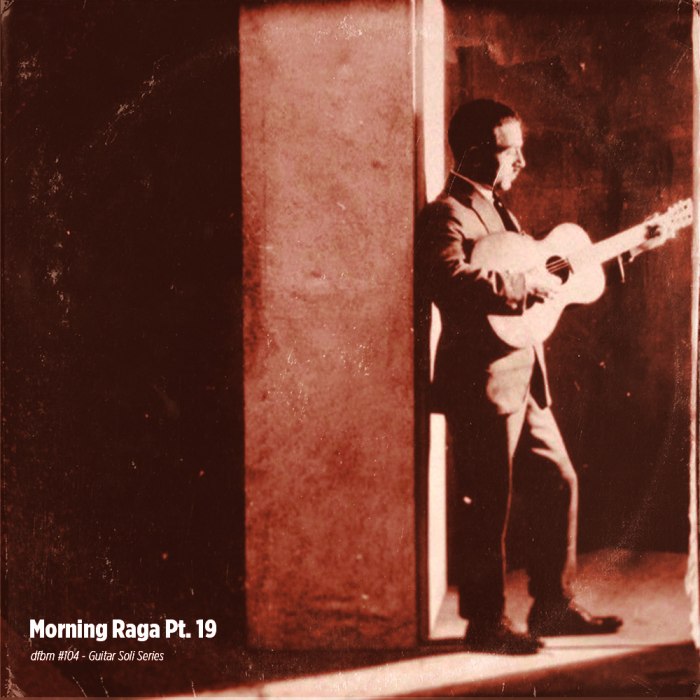 Mixtape
dfbm #104 - Morning Raga Pt. 19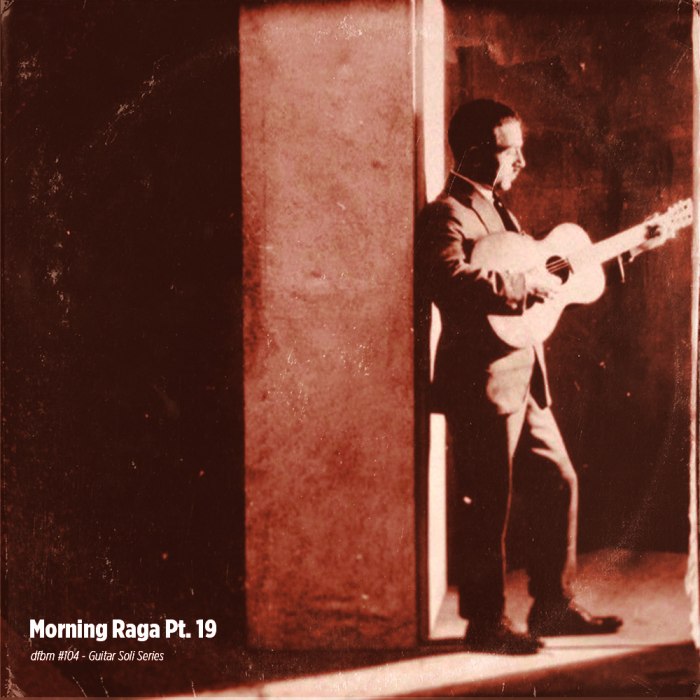 Welcome to another installment of the Morning Ragas series. This "Summer Morning Ragas" are carefully selected from a 80 gigabyte stack of new music that I collected over the last months.
As always you can stream it via mixcloud or download a good old zip to transfer it onto your mp3 player or whatever. I have to mention that mixcloud are going to change their model.1 You can still use it for free, but they limit certain functions and I'm not sure how creators will be limited. We will see.
Since the beginning of summer I listen to Jonny Dillon's one string guitar pieces and I'm enjoying them immensely. Dillon is better known as a electronic music producer, but on "Songs For A One-String Guitar" he's playing... a six string guitar. Lovely and highly recommended album.
Glenn Jones doesn't need an introduction, he's the master of partial capo'ed solo steel string guitar and a central figure for this small scene.
I've never said thanks to Kadonnut Manner for sending me his cd which is full of American Primitiv solo guitar pieces with Finnish track tiles. From the same hemisphere is Topias Tiheäsalo from his split album with Niko Karlsson. Very sparse and quiet dark tunes. I just love this stuff.
Hayden Pedigo, while dipping his toe into local politics, his thumb was banging the e-string of his acoustic guitar or help turning knobs on his synths. Pedigo's new album Valley of the Sun was released without big announcements or Rolling Stone article, but people who love this kind of music found out about it anyway. As always, Pedigo alternates bewtween ambient music, solo acoustic guitar and even lofi pop. Occasionally he mixes all three components and out comes something like Horn that I envision as the perfect soundtrack for a big greenhouse where they grow big zucchinis and exotic birds flying around.
Nick Jonah Davis' White Peak ep flew a bit under the radar as well. It's a nice showcase of his current work and you should check it out if you haven't yet.
Also, new material from Italy by the once very obscure Enrico Marcandalli and by the still, very obscure Paolo Boschi who released a few cdrs around 2000, but that's all I know. His music is very sparse but magical guitar instrumentals.
Gwenifer Raymond just kills it, she's one of the best new players around, but you already know that. If not, get her latest releases!
Like Gwenifer, Kinloch Nelson was discovered and released by Tompkins Square Records and Nelson's story is pretty wild. It's a tale of Fahey inspired guitar music from the late 60s that was never released before. Highly recommended and not your typical "Sunflower River Blues". Original guitar music and one of my favorite records this year. Nelson is still active, playing concerts or giving workshops.
I would love to write a few more words to each artist and track, but if you listen closely, their music will tell you why I selected that specific track.
As always, you can support DFBM by buying a t-shirt and share the mixes. Thank you for listening.

---
Tracklist
Jonny Dillon

Again, But With Feeling This Time

Glenn Jones

Elliot Audrey, Born Today

Alex Archibald

Domovoi

Mouss

Les adieux

Joseph Allred

Leaving

Niko Karlsson

Alma-Ata

Paolo Boschi

(you) forest version 5.15

Enrico Marcandalli

Viaggio

Gwenifer Raymond

The Three Deaths of Red Spectre

Señor Alec Thompson

Last Summer Smoking Part 1

The Modern Folk

Glenwood Park Improv

Turner Havens

Song #5

Kadonnut Manner

Tähtitieteellinen hämärä

Marc Spitse

11 at the Red Bridge

Kinloch Nelson

Funky Susan

Hayden Pedigo

Horns

Nick Jonah Davis

Raven Lane

Isasa

Arquitecto tenista

Jakub Šimanský

Dog Star

David Campbell

May Evening Improvisations

Geoffrey Poister

Clear Winter Morning

Al Cook

Slide Guitar Foolin'

Dibson T Hoffweiler

Dice Tosser's Dance

Roger Kunkel

Blood Moon

Laurie Spiegel

From a Harmonic Algorithm

Scott Wainwright

Ragtime Raga

Tyler Nicholson

Forefathers

Winslow

The Old Year
---