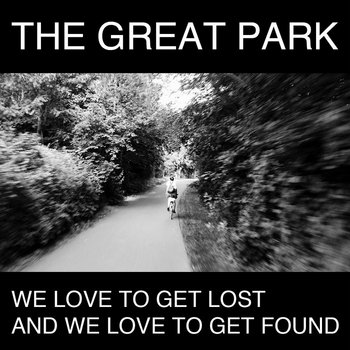 'We Love To Get Lost And We Love To Get Found' is the second of three EPs planned for this year from The Great Park. It includes five songs written in summer 2013 and recorded at home in the south of Germany.

Download includes pdf of the lyrics, guitar chords plus the video to 'Deserter'.

The first release, 'January EP' is available here:
http://thegreatpark.bandcamp.com/album/january-ep

The physical edition of this is a hand stamped CDR in a card sleeve with lyrics and chord inserts. First 100 are numbered.

Do say hello:

THE GREAT PARK
www.thegreatpark.co.uk
www.facebook.com/thegreatpark
www.twitter.com/thegreatpark

email: thegreatpark@icloud.com

WOODLAND RECORDINGS
www.woodlandrecordings.com
www.facebook.com/woodlandrecordings
www.twitter.com/wrecordings
www.youtube.com/user/woodlandrecordings

email: woodlandrecordings@gmail.com
  powered by bandcamp
The Great Park – We Love To Get Lost And We Love To Get Found

If you are living in Germany or around, chances are good that Stephen Burch aka the Great Park was already in your town and played his "Problem Folk".
I saw announcements every now and then around the southeast of Germany, but I never made it. I also crossed his virtual paths a few times and saw that he is very prolific and constantly touring, stamping cardboard for his releases and stuff, but I've never listened to a single song, until the video of Deserter popped up in my feed some days ago and I finally gave it a spin.
Listening to that song was like a deja vu. The beginning reminds me on Current 93's The Descent Of Long Satan And Babylon from the phenomenal Thunder perfect mind album. It's maybe Stephens voice that sounds similar to David Tibet, just less annoying. Maybe it's the british english accent. I think there are a few intersection in their music due to the fact that they are both from the U.K. and might share a similar musical background, when I think about the british folk tradition and stuff.
On the other side a song like "Solo" sound a lot like the desperate bar music of Tom Waits. You know that kind of music that makes you feel like sitting in a bar or cafe, with heavy thoughts, memories, blurred visions or headaches (or all of it).
However, The Great Park is no background music, his voice is so present and requires you to listen to and so you find yourself watching a 20 minutes film noir in your head. Not a thing for every day, but once in a while. Yes!
If you like what you hear, he offers a long list of recordings on his bandcamp or check out his Woodland Recordings imprint and if you want even more similar music, try Birdengine or D.M. Clark. But for now hit the play button on this album with the long winding title.