Two Man Cult
by Crystalline Roses with The Yankee Entertainer
On this cassette, Crystalline Roses with The Yankee Entertainer are playing psychedelic mountain music.
About the album
Along with their own pieces, they also play songs by Michael Hurley, Reverend Robert Wilkins and Fiddlin' Sam Long.
Meet A.P. Carter on Psilocin and without depression in heaven. Listen to an epic 17 minute long rendition of the famous murder ballad "Pretty Polly" played on a freaking sitar and accompanied by banjo, zither and 12-string guitar.
There just "got to be hope somewhere"!
Pasquarosa is all over the place with his music and his influences. When he isn't grunting into a microphone, taping early eighties electro punk or releasing beautiful solo acoustic guitar music on VDSQ, he's playing old time tunes for weddings, country fairs, or is making art.
Two Man Cult is a short, psychedelic hike into the mountains that leaves a lasting impression.
Tracklist
Side A 
Got to Be Hope Somewhere
Worried, I'm Worried
Echoes of the Ozarks
No Depession in Heaven
Watching the Blues Change Color
Police Sargeant Blues
Side B
Pretty Polly's Suite

Courtship
Ballad
Her Soul Struggles
Ascersion
All songs written, arranged and recorded by Anthony Pasquarosa/Crystalline Roses unless noted 12.30.2013 - 01.13.2014
"Worried, I'm Worried" Michael Hurley   
"Echoes of the Ozarks" traditional/Fiddlin' Sam Long   
"No Depession in Heaven" A.P. Carter   
"Police Sargeantt Blues" Rev. Robert Wilkins  
"Pretty Polly's Suite" traditional/Dock Boggs 
Mixed by K. Harley Gebo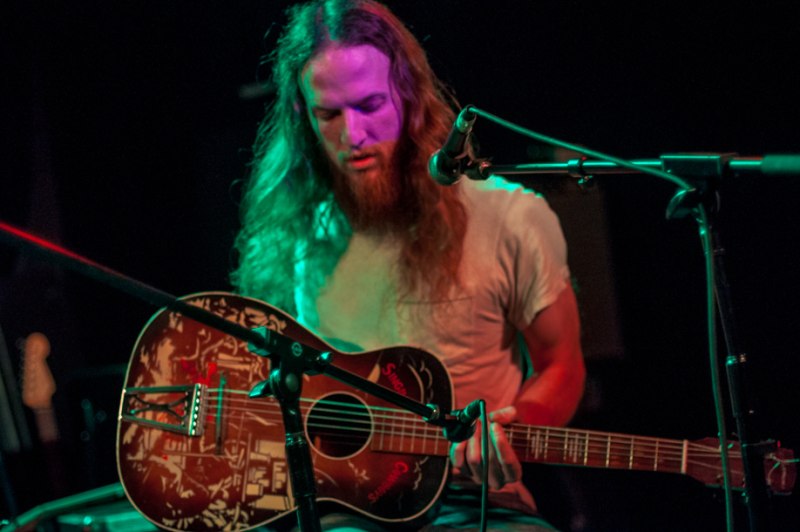 Photo by Eric Phipps
…Country inspired and conjuring up images of back porches, moonshine and fields of corn, at least to a middle class white boy, this is a fabulous album, that is smoky, rustic and very listenable. An early highlight is "Worried, I'm Worried" (Michael Hurley), a banjo and guitar weaving slow motion magic over which the voices sing their song, whilst the violin on "Echoes of the Ozarks" sounds as if it is a memory of a better time, haunting and melancholic enough to bring a tear to the eye. After a selection of shorter tunes, the second side of the cassette is taken up with the 17 minute "Pretty Polly's Suite" a more experimental affair that has elements of the minimalist style, shades of Steve Reich coming to mind amongst the more traditional segments, the minimalism moving into a haunting version of the traditional tune that contains zither and sitar as well as guitar and banjo. Wholly engaging, the piece is like a dream, soft and alluring, a track to be heard alone as the sun sets and darkness creeps in.
— Terrascope
…The duo's music is in the old/weird/Americana vein, with acoustic instruments getting psychedelic on classic Carter Family tunes, Michael Hurley favorites and, most excitingly, a 17-minute trip through "Pretty Polly." Come take a walk with me!
— Doom and Gloom from the Tomb
anthony pasquarosa könnte man längst begegnet sein. auf dem hervorragendem vin du select qualitite label veröffentlichte er bereits zwei longplayer, 12-string- phantasien auf der suche nach einem frühen robbie basho ersatz. daneben verwickelt sich pasquarosa gern auch in experimentelle ansätze, wie etwa dem eingebrachten wasserrauschen auf "morning meditations". mit burnt envelope frönt tony einem scuzz-punk ansatz, die ersten aufnahmen mit dieser "band" wurden gerade auf feeding tube records veröffentlicht. unter dem moniker crystalline roses lässt sich der amerikaner ebenfalls nicht lumpen. acid folk in einer seiner schönsten auswüchse bis hin zu transzendenten schwüngen. die fröhliche fixierung auf singalongs, die verquickung von traditionellem material bis hin zu einschlägigen cover mitsamt einem aufblühenden instrumentarium aus offenen gitarren und banjo sowie vorsätzlich müdem gesang macht wahrlich was her.
mit "two man cult" brachte im februar das rührige kleinlabel dying for bad music aus schwarzenberg einen ausschnitt derart zugeschnittener musik heraus. gemeinsam mit the yankee entertainer gelangen einige vielgestaltige wie ausweglos gehaltene cuts. darunter finden sich nummern wie michael hurleys "worried, i'm worried", das im psychhall aufblendet oder das traditional "echoes of the ozarks", das mit fiddel und akustischer stolz brilliert, leider viel zu kurz ist. epochal dagegen das über siebzehn minütige "pretty polly's suite", dargereicht an sitar, banjo und 12-string. ein fest! der release, wie auf dfbm üblich, kommt in schicker verpackung daher, hier auf kassette.
— Das Klienicum
mong it's spacey, meditative instrumental excursions for various stringed mountain-type instruments, it presents songs by a number of classic american folk artists; a.p. carter, michael hurley, dock boggs, and more. these takes have a time-slipping, droning, psychedelic nature to them. traditional american folk music generally has an element of drone to it, and this seems to be the facet upon which anthony has cast his hermetic musical gaze.
— The Modern Folk of America